Everyone Has A Plan Until They Get Punched In The Mouth


Harrisonburg, Virginia, United States. The small town in the Shenandoah Valley is where an uncommon event takes place every month. Two people confront each other in a fist-fight duel in order to solve a dispute (informally called a "beef"). The place is a backyard, known as the "Satan's Backyard". The host is Christopher Willmore, aka Scarface. A set of rules to abide by, a few people around as witnesses, and a cell phone recording all of it, will guarantee that the results are "fair" and some kind of honor is restored. Alexander Hamilton died in a duel, and Andrew Jackson was killed in a duel. The first was a Founding Father, and the last, the seventh President of the United States of America. Barbara Holland in her book The Gentlemen's Blood states: "The duel was essential to private, public, and political life, and those who followed the elaborate codes of procedure were seldom prosecuted and rarely convicted-for, in fact, they were obeying a grand old tradition...the remarkable, often gruesome, sometimes comical history of the Western tradition of defending one's honor."

That's a starting point for a photographic investigation about the exercise of manhood, masculinity, violence as the root of the symbolic order, and other issues that may appear when expanding the view to the neighborhood, the economic and social order that they are part of, besides their own personal stories. The method will consist of pictures taken on-site, interviews, screen capture from social media groups, and their own recorded material.

While I was working on my project Gigantes, photographing Brazilian pro wrestlers, their training, and events, I raised the hypothesis that a part of the current lack of interest in this type of sport was in the fact that the spectacle of fights happening today, besides being virtually much more present in front of the spectators, is also more intense, more real, less theatrical (in the sense of following a plot). My suspicion was that once this last type of entertainment becomes a culture, is watched, commented on, and/or only perceived by the masses, that first form of entertaining loses part of its interest.

That's how I found Streetbeefs. From the comfort of the chair, in front of the computer, I came across this Youtube channel where ordinary people fought without any technique, but with a lot of desire. First of all, the fights were dedicated to the people who got involved in some dispute in the neighborhood, and in the lack of how to convince each other, they decided that the final word would come from a duel. "Gloves up, guns down" became their motto. A manly and vigorous way to keep rude tongues in check."For Streetbeefs the rules are simple: two fighters, three rounds, no biting, no eye-gouging, no throat chops, no cursing, don't insult the fighters, and obviously no drugs, alcohol, or filming. Whoever wins they got the honor and the dispute's solved". That's their Code Duelo in the words of Christopher Willmore, founder of the group. Best known as Scarface, or simply Face, I saw Christopher for the first in a very short documentary made by the New York Times in 2013 and his story was very impressive to me. At the age of 5, their house caught on fire. His mom, a drug addict, was drunk. His brother died inside and for a long time, he felt guilty for not being strong enough to go back inside and save him. At 16, was "all around drugs and stealing" and got stabbed in the throat. Was sent to prisons where he also learn how to box. On Christmas Eve 2013, one of his friends was shot in the back in front of his house while waiting for his son to leave. He bled there, in front of the child, until his last breath. That was when he decided to start Streetbeefs.

This project takes the Streebeefs case not as a "simple" fight club, but also how it is inserted in this "Western Tradition of defending one's honor". Nevertheless, it intends to explore other layers that might compose the bigger picture. I call into question the approach/definition to Violence as being simply Aggression. The French philosopher René Girard would call it demagogic: when we think of aggression we do not consider ourselves aggressors (whose behavior conducts to violent phenomena), and the aggressor is always "the Other", an Unknown, far away from our responsibility. This, he would continue, perpetuates the Rousseauian idea of a "Good Human Nature", that would be better off without a Society to corrupt it. My idea is more a Romanesque one, meaning that the Violence among men is rivalrous, present in different forms in all societies, composing the core of human nature and culture.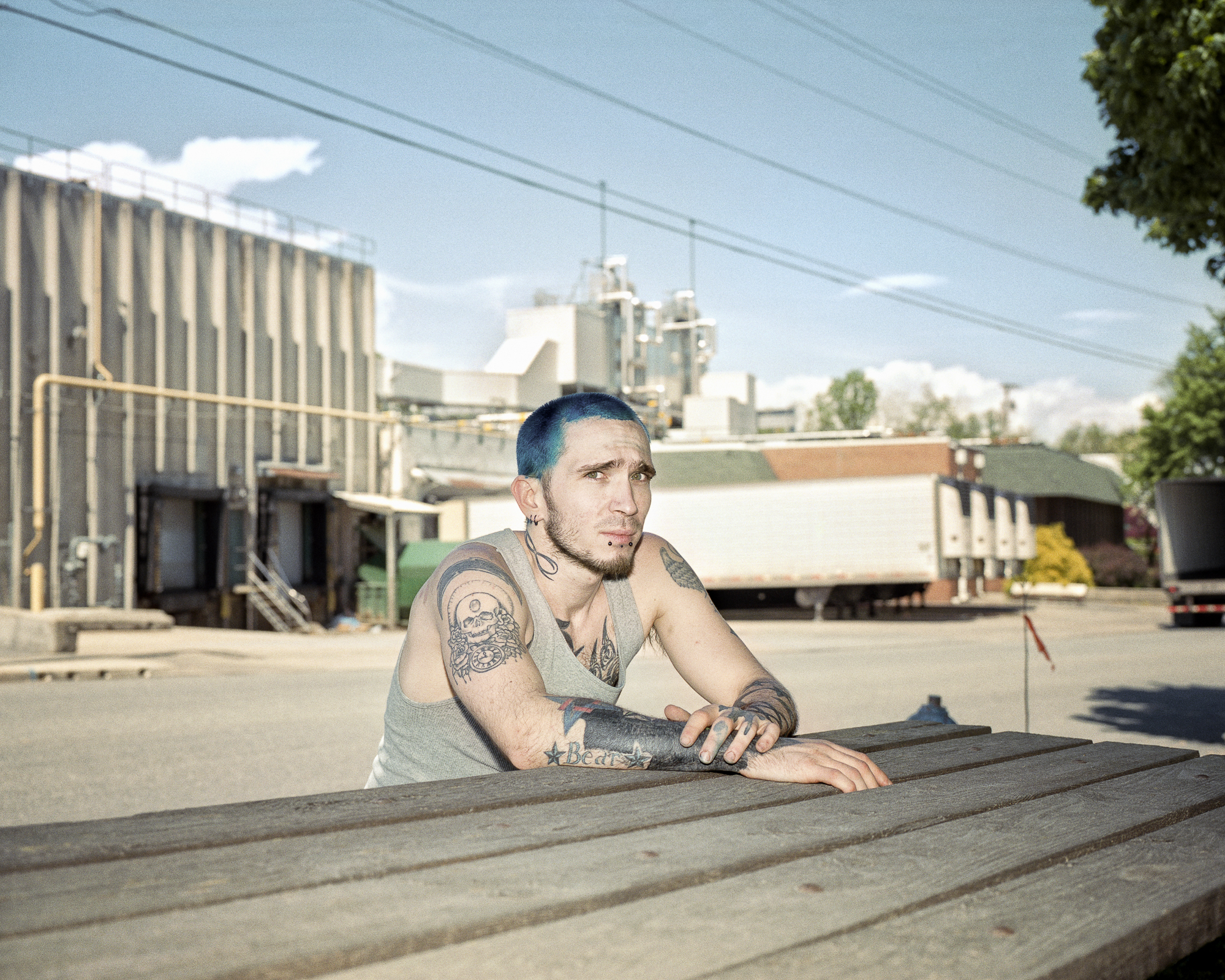 I went to George's Foods to ask permission to take pictures inside. After I presented my project, the manager deferred, but not without mentioning that one of the employees was one of the fighters. We watched a video of when he came to fight in the yard

because of a girl who left him for another guy. He called him out for a duel and was knocked out. When I left the manager's office, in front of me was Bobby, Bipolar Bobby, taking a cigarette break. The next day we made an appointment for a portrait in front of Roses. He dyed his hair the same shade of blue as in the video. Blue smudges on his ears and fingers. By the time he arrived, a random guy, very agitated, was hurling insults at us. I decided to ignore him and got behind the camera when I saw, through the lens, Bobby withdrawing his knife in one sharp motion. The other guy was walking fast towards us, almost running, with no shirt and an upper body red from the sun, he showed no intention of stopping. He came very close to Bobby and asked for a lighter.

The mood calmed down and Bobby ended up presenting the intruder with the knife he had taken from his waistband. That night we met again, he showed up sprayed with blood, chicken blood. Then he explained to me that his job was to finish what the chicken head cutter failed to do. He was hungry, and we went to the Seven Eleven to order a pizza. He pulled his phone out of his pocket to call an Uber. The screen was covered with fresh and old blood, the result of another day's work. Realizing that the stains prevented him from seeing the screen, he licked it clean. The pizza didn't take long to arrive.